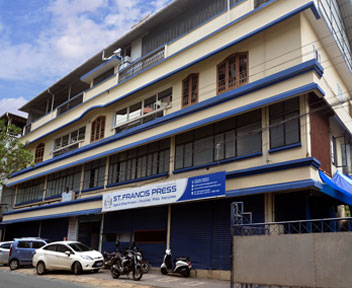 Welcome to
St.Francis Press
Founded in 1926, St.Francis Press,. has an established reputation for affordable, reliable, and efficient printing services of the highest standard. We offer a range of services that is unrivalled in commercial printing,.
We are at the forefront of both offset and digital printing, combining the latest in technology with a proficient, highly trained team who have decades of experience in the industry.
We deliver what your printing needs.

PROMISES
Whenever we make a commitment, we stand by our principles to deliver. This is important as we establish trust with clients and suppliers.

COST EFFECTIVE & OPTIMUM QUALITY
Cheap cost need not mean poor product. Be assured that we provide you our best price, combined with optimum quality in standards. St.Francis Press firmly disagree that "you get what you pay for". If so, why would we be Kerala's forefront printers? We are cheaper. We are better.
Enjoy the purse-string friendly brilliance that countless customers across Kerala and Non resident Indians have been enjoying for years. We understand that business has had to tighten its belt, whilst becoming even more competitive at the same time. Therefore our service should be at the heart of your printing operations, we want to help you perform in this tough environment. Our printing helps your business reach its potential through professionalism, prudency and pride – join us

Contact us with your requirements and we will tailor our services accordingly.